WE EXPLAIN WHAT IS THE...
As its name explains, this is boxing for professionals who wear suits to work, also known as "Boxing for executives".
History takes up back to New York in the 1980s, when several Wall Street financiers and lawyers decided to train as professional boxers at the legendary Gleason's gym in Brooklyn. The first fight was organised between the lawyer Richard Novak and the doctor in English literature David Lawrence, who stood in front of a large audience of co-workers, family members and friends, a fought a match to then all go for dinner together. Soon after that there were dozens of executives who wanted to experience the feeling of changing their daytime ties for boxing gloves at night. This was the birth of White Collar Boxing.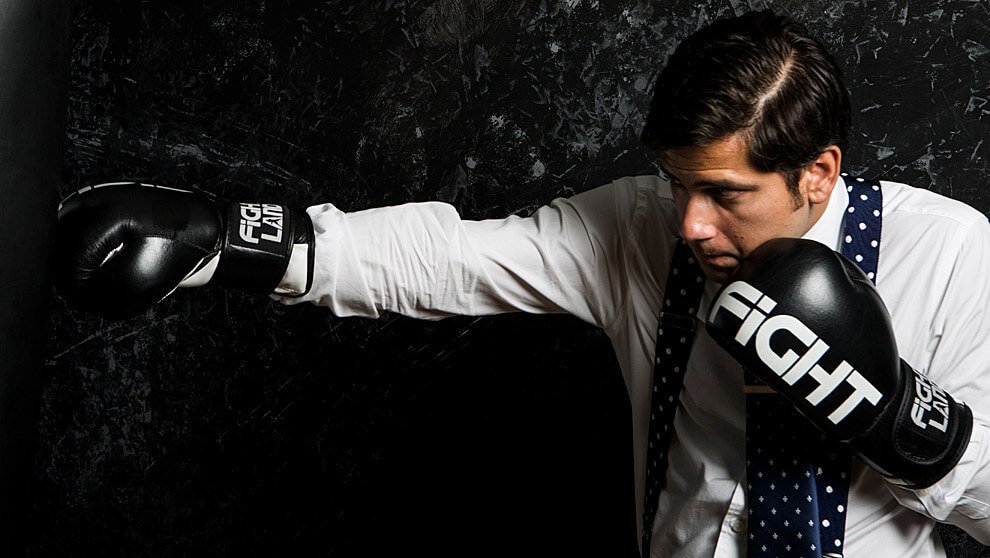 What began as an activity to get in shape, lose weight and eliminate stress, soon became an extraordinary training system that also proved to reduce tension and aggression, channel excess competitiveness and radically increase reaction capacity, confidence and concentration. This was the only activity the executives had found where they managed to disconnection of their everyday problems, ending their training sessions with a feeling of muscular effort and an adrenaline rush which allowed them to face their working days with incredible self-esteem.
These fights soon began to spread all over New York, Chicago, and other US cities, to then move to England where they became very popular. In 2005, the Athletic Commission of the State of New York decided to prohibit White Collar Boxing fights from being held in public, but not their training which, nowadays, represent more than 70% of the customers at all boxing gyms on the East Coast and in California.
These evenings continued to enjoy enormous popularity and dissemination in the United Kingdom, normally aimed at obtaining income for charitable works. Nowadays it is experiencing its most growth in world-class financial centres such as Hong Kong or Singapore.
The White Collar Boxing fights have a different regulation from professional boxing fights: they are made up of three two-minute rounds, with one minute rest between each round and the contenders always fight with large gloves (16 ounces), head gear, groin guard and mouth piece. There isn't normally a winner or a loser, and it is normally followed by an evening gathering consisting of a gala dinner for charity. The Boodles Boxing Ball recently organised an evening in London, with which 200,000 pounds were collected and enjoyed the presence of Prince Harry and Pippa Middleton.
FIGHTLAND has introduced the genuine and authentic White Collar Boxing in Spain, having organised several events with identical philosophy: non-professional participants, without prior experience in boxing fights and always for charitable purposes.
We have collected funds for the fight against ALS, in collaboration with FUNDELA (Spanish Foundation for the Promotion of Research into Amyotrophic Lateral Sclerosis) and the television channels INTERECONOMÍA (Punto Pelota programme) and AS TV. We also collaborate in White Collar Boxing evenings held with other clubs in Spain, where we present our brand and provide advice and logistic support, for such important purposes as is supporting children with cancer or for animal welfare associations.
Although in our country we still have a long way to go, we already the system and specific training aimed at executives, professionals and, in general, anyone who wants to feel the passion and adrenaline rush found in boxing. And no one better than those who have fought on two fronts, such as executives and boxers, to know what we are talking about… FIGHTLAND – THE WHITE COLLAR BOXING CLUB is the place.