WE EXPLAIN WHAT IS THE...
Significa literalmente "Boxeo de Cuello Blanco", pues con este adjetivo se identifican en inglés aquellas profesiones que normalmente se llevan a cabo con traje, siendo también conocido como "Boxeo para ejecutivos".
La historia se remonta a finales de los años 80 en la ciudad de Nueva York, cuando varios financieros y abogados de Wall Street decidieron entrenar como boxeadores profesionales en el mítico gimnasio Gleason's de Brooklyn. La primera pelea organizada fue entre el abogado Richard Novak y el doctor en literatura inglesa David Lawrence, quienes delante de un nutrido público formado por compañeros de trabajo, familiares y amigos, se enfrentaron en un combate para después irse a cenar todos juntos. Al poco tiempo eran decenas los ejecutivos que querían experimentar la sensación de sustituir la corbata de las mañanas por los guantes de boxeo por la noche. El White Collar Boxing había nacido.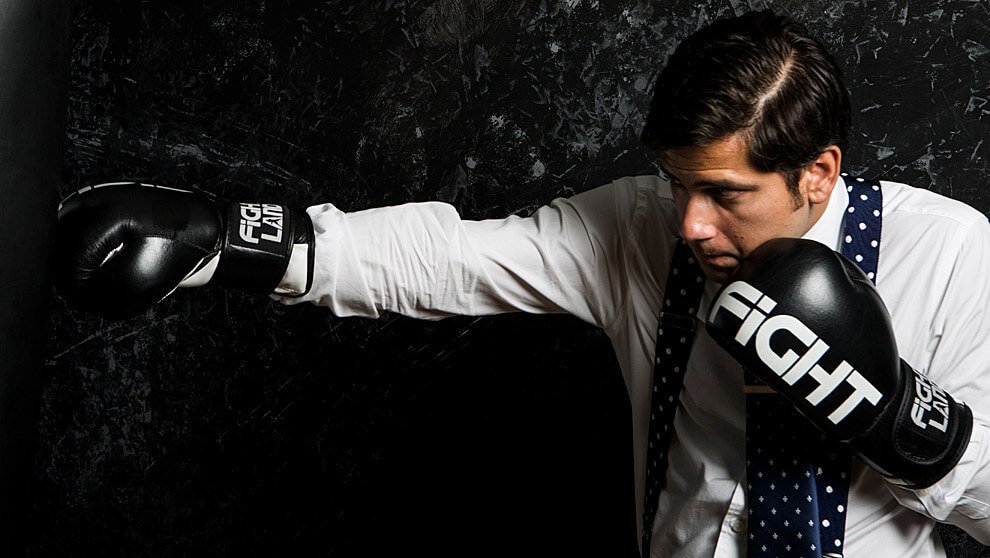 Lo que empezó siendo una actividad para ponerse en forma, perder peso y eliminar estrés, se reveló como un extraordinario sistema de entrenamiento que además reducía la tensión y agresividad, canalizaba el exceso de competitividad e incrementaba de forma radical la capacidad de reacción, la confianza y concentración. En ninguna otra actividad los ejecutivos alcanzaban semejante nivel de desconexión de sus problemas diarios, terminando sus entrenamientos con una sensación de esfuerzo muscular y una descarga de adrenalina que les permitía afrontar sus jornadas laborales llenos de autoestima.
Pronto comenzaron a celebrarse combates en todo Nueva York, Chicago y otras ciudades de Estados Unidos, para poco después extenderse a Inglaterra donde alcanzó gran difusión. En el año 2005 la Comisión Atlética del Estado de Nueva York decidió prohibir la celebración de peleas públicas de White Collar Boxing, pero no así su entrenamiento que, hoy en día, supone más de un 70% de la clientela de todos los gimnasios de boxeo de la Costa Este y California.
These evenings continued to enjoy enormous popularity and dissemination in the United Kingdom, normally aimed at obtaining income for charitable works. Nowadays it is experiencing its most growth in world-class financial centres such as Hong Kong or Singapore.
Los combates de White Collar Boxing tienen una regulación distinta a la de los del boxeo profesional: se celebran a tres asaltos de dos minutos, con un minuto de descanso entre cada uno y los contendientes pelean siempre con guantes grandes (de 16 onzas), casco, coquilla y protector bucal. No suele haber ganador ni vencido, existiendo normalmente una velada posterior que suele consistir en una cena de gala con fines benéficos. El Boodles Boxing Ball organizó recientemente una velada en Londres, con la que llegó a recaudar 200.000 libras y contó con la presencia del Príncipe Harry y Pippa Middleton.
FIGHTLAND ha sido el introductor en España del genuino y auténtico White Collar Boxing, habiendo organizado varios eventos con idéntica filosofía: participantes no profesionales, sin experiencia previa en combates de boxeo y siempre con fines exclusivamente benéficos.
Hemos recaudado fondos destinados a la lucha contra la ELA, en colaboración con FUNDELA (Fundación Española para el Fomento de la Investigación de la Esclerosis Lateral Amiotrófica) y las cadenas de televisión INTERECONOMÍA (programa Punto Pelota) y AS TV. También colaboramos en veladas de White Collar Boxing con otros clubes de España, prestando tanto nuestra marca como asesoramiento y apoyo logístico, con fines tan importantes como el apoyo a niños con Cáncer o con protectoras de animales.
Si bien en nuestro país tenemos todavía mucho camino por recorrer, ya contamos con el sistema y entrenamiento específico dirigido a ejecutivos, profesionales y, en general, todo aquel que quiera sentir la pasión y la descarga de adrenalina del boxeo. Y nadie mejor que quienes han peleado en los dos frentes, como ejecutivos y como boxeadores, para saber de qué estamos hablando… FIGHTLAND – THE WHITE COLLAR BOXING CLUB es el sitio.