En la actualidad solo dos deportes milenarios continúan practicándose de forma masiva: correr y boxear.
La razón es que desde que el hombre primitivo puebla el planeta, el ser humano responde ante los peligros de dos formas: huyendo o enfrentándolos. Es lo que se conoce como 'reacción de lucha o huida', respuesta fisiológica que proporcionó mecanismos a los humanos prehistóricos para responder rápidamente ante cualquier amenaza, marcando la diferencia entre morir y seguir viviendo.
A pesar de que el cerebro del ser humano ha ido evolucionando, los reflejos gracias a los cuales hoy en día la mente y el cuerpo se enfrentan a una competición, a hablar en público o a reaccionar ante una situación de emergencia, son idénticos a los de nuestros antepasados y, por lo tanto, seguimos respondiendo de la misma manera: huyendo o luchando.
La lucha con los puños como competición y espectáculo es tan antigua como el mismo deporte, pues existen evidencias de la práctica del boxeo desde 4.000 años a.C. El boxeo no se inventó para los que ya eran fuertes; estos no lo necesitaban. Se inventó para poder superarse, para que el más pequeño pudiese vencer al más grande. Para que el entrenamiento, la determinación, el valor y el cerebro, lograran imponerse a la mera fuerza bruta.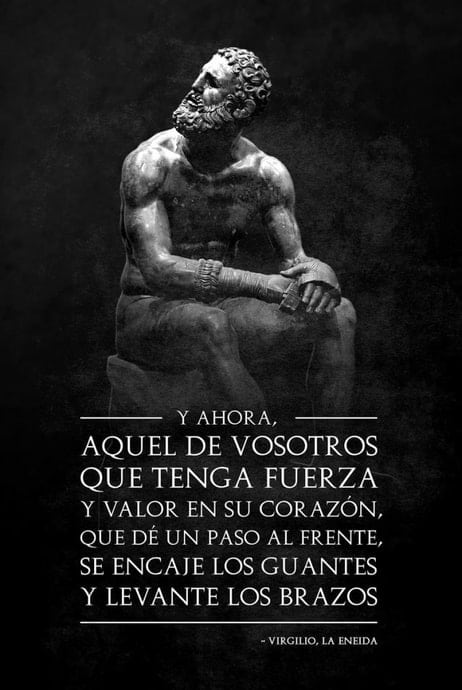 "These are boxers, as complex and imperfect as you or I, like any other man. Admirethem, if the epic of their lives has come to thrill you. Be fascinated by them, if you don't understand the motivation that encourages them to jump into a ring. But in one way or another, treat them with respect. The same respect whole and courageous men have deserved since ancient times".
La vida es un deporte de contacto. Nos dan la bienvenida a este mundo con un azote en el culo, no con un beso en la mejilla. Afortunadamente cada vez hay menos situaciones en las que se deba pelear en el sentido estricto de la palabra, pero día a día nos vemos obligados a luchar con fuerza por todo lo que queremos conseguir, hasta el punto en que hoy se hace referencia a la lucha, a los luchadores, como una metáfora. Una metáfora para cualquier persona que no se resigne a pasar la vida tumbado en la lona o escuchando cuentas de protección. Entrenarte como un luchador te hará pensar como un luchador. ¡Hacerlo sin romperte la nariz es donde entramos nosotros!
Pero boxear no es solo luchar. Es una habilidad que requiere paciencia, disciplina y trabajo duro. Te enseñamos a pensar y a actuar como un boxeador profesional en el ring para que puedas sentirte como un luchador fuera de él. Cambiando físicamente cambiarás también tu mentalidad, de forma que el entrenamiento te podrá ayudar a afrontar cualquier reto, superar cualquier obstáculo, fortalecer tu cuerpo y, lo que es aún más importante, tu voluntad.
In life, as in boxing, the one who falls to the ground isn't necessarily the loser. But the one who doesn't try to get back up.
Cuando cuentes que estás en un gimnasio de boxeo siempre habrá quien te diga que es una salvajada, que no es un deporte, que no requiere más que fuerza bruta y violencia… Bien, todo el mundo es libre de opinar y quien nunca lo ha probado nunca lo comprenderá. Afortunadamente Oscar Wilde, Jack London, Charles Chaplin, Ernest Hemingway, Juan Pablo II, Alfred Hitchcock, Scott Fiztgerald, John Ford, Norman Mailer, Luchino Visconti, Nelson Mandela, Ezra Pound, Víctor Hugo, Michael Mann, John Dos Passos, Julio Cortazar, Elia Kazan, Sir Arthur Conan Doyle, Franco Zefirelli, Lord Byron, Arthur Cravan, Martin Scorsese, Apollinare, Joyce Carol Oates, William Faulkner, Guillermo Cabrera Infante, Tom Wolfe, Gay Talese, Clint Eastwood, Dashiell Hammet y algunos más, piensan igual que nosotros.