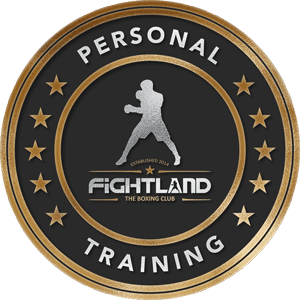 What are you looking for?
Whatever your goal ... we can help you!

Toda nuestra experiencia y recursos, para que alcances los mejores resultados en el menor tiempo posible y, además, y de la forma más divertida, efectiva y segura.

Un entrenamiento personalizado, adaptado a tus objetivos y ajustado a tu situación de partida: forma física, experiencia, posibles lesiones, etc.

Un entrenamiento seguro, con continua supervisión para garantizar la correcta ejecución de todos los ejercicios, evitar lesiones y acelerar los resultados.

Tu entrenador personal será un profesional con amplia experiencia, que estará a tu lado motivándote y ayudándote a lograr tus objetivos.

La posibilidad de llevar a cabo tu entrenamiento personal en el club FIGHTLAND que más te convenga y en el horario que prefieras.

One-hour classes, which you can do both individually and in a group of two or three people.

Individual classes lasting half an hour.
What are you waiting for?
Dinos qué buscas, cuáles son tus objetivos, tu disponibilidad…
¿Vendrás solo o con tu pareja? ¿O con dos amigos más?

¿Quieres enfocar todo el entrenamiento al boxeo?
¿Has tenido alguna lesión reciente que te siga molestando?
¿Te interesa potenciar alguna zona en concreto de tu cuerpo?…


¡Habla con nosotros!