You can't learn to box by reading a book or studying manuals. There are no online courses to become a fighter. Our founders have won their titles in a ring or in highly demanding authentic training camps, with examiners who are tougher than any examining board you can imagine.
They hold honorary degrees thanks to their hard work, long hours of suffering and tiring training, of giving and receiving blows, of avoiding them, or falling a hundred times and getting right back up again.
They aren't the typical coaches that sit back and count repetitions, or who watch and chat while you do some ludicrous exercise that a true boxer would never do. Their job is to prepare you physically, teach you, make sure you enjoy it and you get the results you want. They will be your worst enemy in the gym and your best friend outside.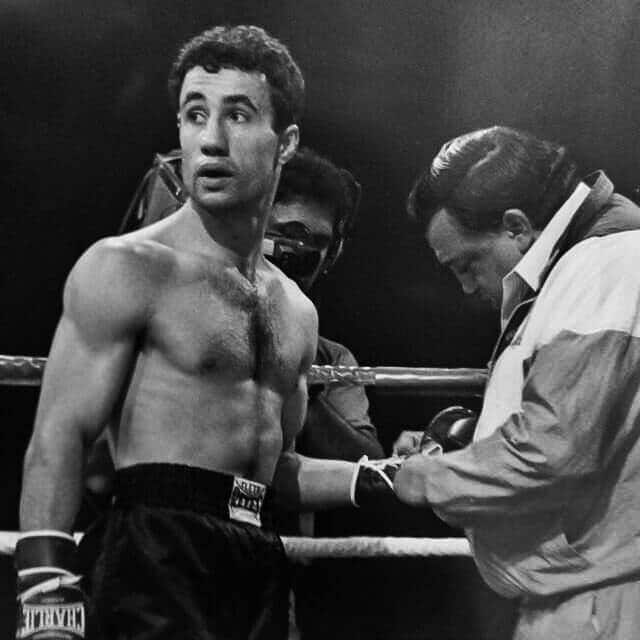 But they haven't just had to fight in life wearing gloves…This is what you should know about them:
Passionate about fighting and contact sports, he has practised judo, full contact and boxing for many years. He has been a rugby player, a translator, diver, green beret soldier in a Special Operations Group, Sales Director, trainer of vendors and senior
manager in a financial institution. He has worked and lived in the Persian Gulf and in Central America. In his free time, he enjoys horse riding, studying classical Arabic and reading. He is a boxing instructor by the Spanish Federation, chiropractor, technician in sports massage by the Spanish Gymnastics Federation, holds a degree in Law, diploma in Financial Advice and Bank Management and European Financial Adviser.
He has been a professional boxer. Two times Spanish boxing champion and five times champion of the Community of Madrid. He fought 114 fights, with a record of 102 wins, remaining undefeated for five years in a row. He is an authority in boxing history and techniques. He has been on the board of several financial institutions, specialised in Business Banking. National coach by the Spanish Boxing Federation, international referee, nutrition specialist, CrossFit trainer level 1, holds a degree in Business Studies and a diploma in Finance and Bank Management.
Be a fightlander…
fight with us!
what our customers say...
Superadictivo!!! 100% recomendable

Macarena Ayerra Linares


February 4, 2016

Fantástico todo: las instalaciones, las clases, el personal, el ambiente... No vuelvo a un gimnasio convencional.

Juan Martín Muñoz


February 26, 2015

de lo mejor que he probado nunca ...... entrenamientos intensos pero de mucha calidad

Keko Keko Keko


July 15, 2015

Lugar de entrenamiento super agradable con grandes profesionales que te enseñan a darlo todo y a no escatimar en esfuerzos. Mucha suerte amigos.

Israel González Medina


November 19, 2015

Ambiente familiar Entrenamiento de la mano de los mejores 100% recomendable

Carlos Fisioteko


November 28, 2014

Hoy cuando he llegado a casa del gimnasio, me ha preguntado mi peque; - ¿hoy has ganado al saco papi? Y claro no la puedo mentir. - no hija, me ha vuelto a gana. - bueno papi el próximo día. Je,je,je...

Juan Antonio Mendo Martin


February 19, 2016

Lo probé y qué decir. No he faltado ni una semana al entrenamiento, incluyendo durante estas fiestas. ¿Duro? sí, mucho. Pero eso sí, efectivo, divertido, incluso adictivo. Y siempre con muy buen ambiente.

Jorge Arquellada


January 7, 2016

Ejercicio súper completo, trató inmejorable por parte del profesor y de todos los que trabajan allí, instalaciones estupendas. Yo estoy enganchada y se lo recomiendo a todo el mundo.

Lucia Franco


March 17, 2017

Acabo de empezar y engancha desde el principio....mindfulness a base de directos y ganchos....hiperadictivo

Cesar Fernandez


September 26, 2017

Un saludo

Fco Javier Cortiella


October 14, 2014

No lo niego: llegas el primer día con miedo, como el primer día de cole pero tras la primera clase ya son como de la familia! Adiós a los gimnasios de cachitas. Por fin he encontrado mi sitio. Intensidad a tope, técnica y sobre todo buen rollo.

Marco Ferreira


November 26, 2015

ÉXITO

Virginia Ortega Cruz


October 15, 2014

AKEWAL SPORTS Spain:Carrer de Santa Teresa, 4 Bajo, 46001 Valencia, SpainWhatsApp: +34 665 400 005 Phone: +34 665 400 005 http://www.akewal.com/ E-Mail: akewalsports@gmail.comSocial Media Link:http://stores.ebay.com/AKEWAL-SPORTS?_rdc=1https://www.etsy.com/shop/AKEWALSPORTShttps://www.facebook.com/akewalsports53https://www.instagram.com/akewalsports/https://akewalsports.tumblr.com/https://www.pinterest.es/akewalsports/https://twitter.com/Akewalsport

Akewal Sport


September 17, 2018

Yo solo EH ido a una clase gratis y mañana lunes 6 me apuntare oleee por el boxeo además hoy gordo

Emilio Jose Valdez Aria


April 6, 2015

Calidad deportiva y humana

Francisco Rullán


October 22, 2014

Es realmente duro, pero clase a clase ves mejorías. Las instalaciones son geniales y el serivio y trato de los profesores y todo el personal es aun mejor.Yo, que no he hecho casi deporte en mi vida, no puedo dejar de ir. Recomendable 100%.

Vega FG


November 27, 2015

La única pega a unos entrenamientos duros y divertidos con unos profesores excelentes es la ausencia de "guanteo" en las clases. Me parecería genial poder incorporar de manera voluntaria (solo para aquellos alumnos que quisieran), sesiones de guanteo por asaltos con el profesor o el compañero, con su debida protección y control. En mi opinión es la mejor manera de poner en práctica lo aprendido y la verdadera esencia del boxeo, con esta actividad incluida en las clases sin duda se merecerían las 5 estrellas.

Kike Alia


January 18, 2018

Sin lugar a dudas son los mejores, José Luis y César, y tienen las mejores instalaciones. Una maravilla!

Pedro Serrano Gabari


March 5, 2016

Un autentico placer poder entrenar en Fightland. Entrenadores de lujo y un ambiente increíble,

Israel Dominguez


February 16, 2015

"La vida no es una pelea continua...es una Lucha constante"S.PeralesEste lugar es magnifico,entrenas tu cuerpo,adiestras tu cabeza y despiertas tus reflejos...

Ssp Leiva


October 14, 2014

Contento después de mi primera clase de boxeo. Mucha caña, mucha intensidad y variedad. El entrenamiento me pareció muy duro y divertido, es lo que buscaba Muy bien el trato y las explicaciones de los monitores y las instalaciones. Con ganas de más!!!

Toyo Garcia


August 18, 2017

Me han enganchado, entretenimiento, variedad, profesionalidad de los monitores.

Jose Hidalgo


February 23, 2016

Great trainers. Solid hour of nonstop working out.

Greg Clements


June 10, 2017

Bastante buena impresión. Personal atento y amable con los nuevos y el entrenamiento intenso y muy entretenido. Hay que pillarle el ritmo pero es cuestión de práctica.Para mi Lo importante es que si acabas de llegar y encima eres chica no te sientes desplazadaHe conocido otros gimnasios de Boxeo y me quedo con este

Marivi Jimenez Madrid


March 14, 2017

El nivel del entrenamiento y el ambiente es muy bueno! Lo único que se echa de menos es que nos dejen subir el ring a repartirnos un poco de amor 😀

Eduardo de Tena


February 27, 2018

Estupendo todo y muy recomendable.

Marta Ods


June 19, 2018

Diversión y esfuerzo conjugados perfectamente gracias a sus magníficos entrenadores. Sin duda, uno de los entrenamientos más completos que he realizado.

Jesús Vidal González


February 16, 2016

As a one year convert to the benefits of boxing and its associated cardio and core workouts at @TITLEBoxingClubConcord #titlestrong, I was dreading the loss of my workout when I came to Madrid for my father's funeral. Thank heavens I found Fightland. I was enthusiastically welcomed by the staff and had an excellent session with Laura despite the language barrier. Great facility and great workout. Over 700kcal in one hour! I will definitely be back and will recommend it highly to all traveling Title Boxing Club members.

Rob Stich


January 17, 2017

Mi primera incursión en el boxeo, y encantado. Se rompen todos los falsos mitos de sitios sórdidos y violencia. Instalciones inmejorables, el personal amable y atento. El deporte súper completo. El entrenamiento duro, exigente y muy bien dirigido. White Collar boxing. Altamente recomendable.

Ángel Muñoz Mascaró


February 2, 2017

Un muy buen sitio para entrenar ya que es difícil encontrar a un entrenador con cabeza

Antonio Lokomotora


February 12, 2015
Enjoy the experience fightland at your nearest club
In life, as in boxing, whoever falls to the ground does not lose. Loses who does not get up again.